Big Picture

Sunrisers Hyderabad and Gujarat Lions exchanged the top two positions on the points table for the majority of the league stage. Now, they face off in the second qualifier, a virtual semi-final. The loser will bid adieu to the tournament, ending two months of gruelling training and travelling. It will be Lions' second crack at getting into Sunday's final against Royal Challengers Bangalore.

Sunrisers have had the better of Lions in the round-robin phase, winning both matches, and the feel-good factor is with them after they brushed aside Kolkata Knight Riders in the eliminator on Wednesday.

In that match, played on a typically sluggish Feroz Shah Kotla pitch, Australia allrounders Moises Henriques and Ben Cutting bolstered Sunrisers' defence by banging the ball mid-pitch, a strategy Lions might have to adopt on a conceivably similar surface. The eliminator also featured only the second instance this season when a batsman other than David Warner or Shikhar Dhawan top scored for Sunrisers; Yuvraj Singh brought his experience into play to lift their total up to 162.

Lions, by contrast, must have felt deflated after AB de Villiers snatched away their final berth in the first qualifier with a sensational 79. Adjusting from the Chinnaswamy's run-filled, fast-paced surface to Feroz Shah Kotla's slowish pitches could be Lions' biggest headache. But they have the personnel to do so. Left-arm spinners Ravindra Jadeja and Shadab Jakati - if he is not too scarred by Royal Challengers' assault on him - along with the wily variations of Praveen Kumar, Dhawal Kulkarni and Dwayne Bravo could be just what is needed.

Form Guide

Gujarat Lions LWWLW (last five completed matches, most recent first)
Sunrisers Hyderabad WLLWL

In the spotlight

In Lions' previous two games, they returned to their opening combination from the first few games of the tournament. Brendon McCullum and Aaron Finch. A pair as devastating as any in the competition, but, together, they are yet to produce the spark that could leave the opposition helpless. A semi-final could be the stage they need.

David Warner has scored 686 runs in 15 games this season, at an average of 52.76 and a strike rate of 147.84. Even by his lofty standards, those are excellent returns. With sluggish conditions expected, the Powerplay could be the easiest time to score. If he imitates his average and strike rate, Sunrisers will forge ahead in the knockout game.

Team news

Shadab Jakati was plundered for 45 runs in his three overs in the first qualifier. With three left-hand batsmen in Sunrisers' top four, Lions could contemplate including Pravin Tambe or chinaman bowler Shivil Kaushik.

Gujarat Lions (probable): 1 Aaron Finch, 2 Brendon McCullum, 3 Suresh Raina (capt), 4 Dinesh Karthik (wk), 5 Dwayne Smith, 6 Ravindra Jadeja, 7 Dwayne Bravo, 8 Eklavya Dwivedi, 9 Praveen Kumar, 10 Dhawal Kulkarni, 11 Shivil Kaushik/Pravin Tambe

Ben Cutting, Kane Williamson's replacement in the eliminator, registered a golden duck at No. 6 but impressed with the ball. The out-of-form Deepak Hooda struck a quickfire 21 and could hold on to his place. Sunrisers are unlikely to tinker with their wining combination, unless they decide to include legspinner Karn Sharma for left-arm spinner Bipul Sharma.

Sunrisers Hyderabad (probable): 1 David Warner (capt), 2 Shikhar Dhawan, 3 Moises Henriques, 4 Yuvraj Singh, 5 Deepak Hooda, 6 Naman Ojha (wk), 7 Ben Cutting, 8 Bhuvneshwar Kumar, 9 Barinder Sran, 10 Karn Sharma//Bipul Sharma, 11 Mustafizur Rahman

Pitch and conditions

Sunrisers defended 162 in the Eliminator against Knight Riders and Yuvraj Singh's 44 was the top score of the game. The surface was characteristically sluggish with good and back-of-a-length deliveries holding up. With similar conditions expected, the captain winning the toss might opt to bat, going against the early-season trend of chasing.

There is no rain forecast.

Stats and trivia

Gujarat Lions have won eight out of 10 matches while chasing, but just one out of five matches when batting first
Mustafizur Rahman has the best economy rate (7.28) in the end overs (overs 16-20), among all bowlers who have bowled at least six overs during this period
A total had been successfully defended in three out of five matches on slow Feroz Shah Kotla surfaces this season. There was no reason why Sunrisers Hyderabad, with one of the best bowling attacks in the competition despite Ashish Nehra's absence, couldn't defend 163 in a knockout game. Kolkata Knight Riders, the two-time champions, had won six out of their eight games chasing. This was an even contest on a pitch fairly similar to the ones at Eden Gardens. But disciplined bowling and outstanding fielding by Sunrisers derailed Knight Riders and by virtue of the 22-run win, Sunrisers have set up a clash with Gujarat Lions in the second qualifier in Delhi on Friday.

It wasn't a night for manic six-hitting but Yuvraj Singh's 30-ball 44 had all the elements that made him a feared limited-overs batsman once upon a time. Yet the effort that underlined his importance on Wednesday was a direct hit from backward point to dismiss Colin Munro early and induce panic among the Knight Riders.

It also lifted a unit that applied pressure courtesy David Warner's tactful bowling changes to escalate the asking rate. Bhuvneshwar Kumar pulled off a stunning catch at deep midwicket to dismiss the in-form Yusuf Pathan to further dent Knight Riders. At 69 for 4 in the 11th over, they were firmly behind in the game.

A no-holds-barred contest came alive as Manish Pandey and Suryakumar Yadav counterpunched, their 46-run stand, laced with unorthodoxy, caused a few flutters in the Sunrisers camp, but there was always the danger of them perishing in the quest for the big hits. Suryakumar, who was reprieved in the 15th over by Mustafizur Rahman at third man, miscued a slog to Shikhar Dhawan in the next over to leave Knight Riders needing 47 off 24.

Warner summoned his trump card Mustafizur for the first of his two remaining overs, and he responded by conceding just eight. With no option but to look for quick runs, Pandey kept swinging, one of which found Deepak Hooda at long-on. Bhuvneshwar, who finished with 3 for 19, followed the dismissal by spearing in yorkers and full-length deliveries which the batsmen couldn't get underneath. It was reduced to a game of hit-and-miss from there on, much like it was in the first half when Yusuf Pathan and Morne Morkel had Sunrisers, who were sent in, struggling for early momentum.

Dhawan's early wicket forced Warner to tread cautiously. He scored his first boundary off his 10th delivery, but his methods deviated from the usual. Instead of muscular hits, he relied on the drive and dabbing behind the wicket. He was reprieved on 10 when Yusuf put down a difficult chance off his own bowling, but he would only go on to add 18 more. Henriques finished with 31 off 21 and went on to pick up two wickets as well.

By squeezing three bonus overs from Yusuf in the Powerplay, Gambhir ensured he had control over the middle overs. His bowlers also limited Warner's off-side play by sticking to tight lines. The first six was hit by Henriques, when he pulled Yusuf towards deep midwicket to signal Sunrisers' move; the first six overs, four of which were bowled by the spinners, produced 43.

Left-arm wristspinner Kuldeep Yadav, introduced in the eighth over, was hard to pick. As well as Warner and Henriques did to rotate strike, the pair found boundary hitting difficult, as a three-over period after the first six brought just one four. Kuldeep exploited the pressure to stun Sunrisers with a double-strike. After taking a skier off his own bowling to send Henriques back, he clean bowled Warner with a wrong' un that beat his slog sweep. At 71 for 3 with 10 overs left, Sunrisers had to start afresh.

Yuvraj walked out to a slip and silly point, and was put through an examination by the wily Narine. He was able to take Kuldeep apart though and one of his two lofted hits was steeped with his old swagger. He raced to 18 off 12. When he starts off in that fashion, especially on a ground with short boundaries, it points to ominous signs.

Hooda was unfazed by the fuss at the other end; deep midwicket being his preferred area. He slogged two superbly-timed sixes, but his run-out after a mix-up with Yuvraj in the 16th over - Kuldeep effected a direct hit at the bowler's end from mid-off - stalled Sunrisers' yet again.

By then, Yuvraj was in a belligerent mood as he picked three leg-side boundaries before a premeditated scoop against Jason Holder resulted in the flattening of his middle stump. Bipul Sharma smacking Morkel for two sixes in the last over gave them momentum going into the break, which they rode on to ensure IPL 2016 will have a new champion.
Virat Kohli has acknowledged AB de Villiers as the best current batsman, and lauded his composure under pressure after the South African's 47-ball 79 helped Royal Challengers Bangalore qualify for their first IPL final since 2011. Royal Challengers had slumped to 68 for 6 in their chase of 159 against Gujarat Lions in the first Qualifier before de Villiers shared an unbroken 91-run stand with Iqbal Abdulla to carry his side home with 10 balls to spare.

"Unbelievable, can't believe I'm the winning captain," Kohli said at the post-match presentation. "That should end a lot of debates as to who is the best going around. No question about it.

"Come the big game, the big man stands up. I just bow down to him, that was probably one of the best knocks under pressure I've seen. So composed, taking Iqbal Abdulla along. He was really motivated to do it for the team. I'm really happy for him, I'm really happy for the whole team. Special credit to Iqbal as well, the way he got stuck with AB, that crucial partnership. That was wonderful composure to see from a young guy."

After having lost five of their first seven games, Royal Challengers were languishing in the bottom half of the table before winning six of their final seven matches, including a knockout game against Delhi Daredevils, to finish second in the league stage.

"We have been playing good cricket coming into the playoffs, the guys wanted the opportunity," Kohli said. "We've been speaking of guys wanting to step up every game. The top order didn't do well. But AB, the class batsman that he is, I could see the opposition was worried about him, they wanted him out pretty badly because they know what he can do."

The first Qualifier was played on an atypical Bangalore pitch with the ball holding up in the surface and assisting the spinners. Kohli said a thin drizzle during the chase also helped Royal Challengers.

"It did play a bit slow in the first half of the first innings. Second half it settled nicely. I wasn't too unhappy about the few showers in between, it settled the wicket. The ball didn't turn so much, it didn't stop in the end. But high pressure game it doesn't matter, you could be playing on a cement wicket. You need composure and that's what AB de Villiers is."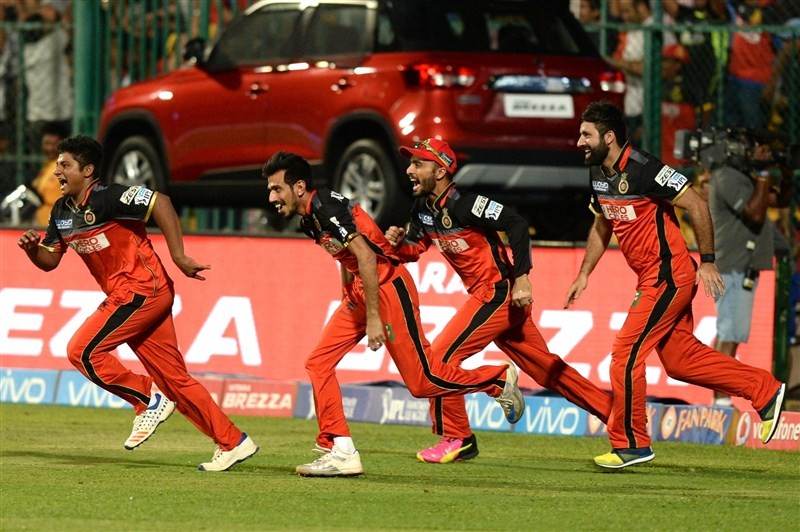 Tumbling wickets. A high but not out-of-reach asking rate. One specialist batsman at the crease, with only the lower order for company. An atypically dry and grippy pitch provided the conditions for such a situation - usually more common in 50-overs cricket than in T20 - to arise in the first Qualifier of IPL 2016. AB de Villiers was the specialist batsman, and when Iqbal Abdulla joined him in the 10th over of Royal Challengers Bangalore's chase of 159, they needed 91 to win off 62 balls with four wickets in hand.

The Chinnaswamy surface - still good to bat on, but slower than usual - had torn up the script that the match had been expected to follow. There was no uncontrollable torrent of run scoring from either set of top-order batsmen. Gujarat Lions were 9 for 3 after being sent in. Then in the chase, Royal Challengers lost Virat Kohli for a duck and slipped to 29 for 5. Then, when Ravindra Jadeja had Stuart Binny lbw sweeping - though replays showed ball hitting pad marginally outside off stump - they were 68 for 6.

It began drizzling soon after Abdulla's entrance, with Royal Challengers needing 63 from 36 balls. De Villiers was at the non-striker's end. Abdulla, on 8 off 14, slashed at a gentle, back-of-a-length ball from Dwayne Smith, and missed. Kohli - who had struggled to contain his temper right through the game - gestured angrily from the dugout, telling Abdulla to take a single and give de Villiers the strike.

Abdulla steered the next ball to deep point. De Villiers, on 47, faced Smith now. He stepped down the pitch, Smith shortened his length, and a tennis-style flat-bat hit flew to the straight boundary. The next ball was fuller, and de Villiers miscued his lofted hit, skewing it high, with the outside half of his bat. It was a rare mis-hit in an innings of surface-defying fluency. It may have been caught at long-off in a bigger ground, but it cleared the leaping Aaron Finch in Bangalore.

It seemed like a sign. This would be de Villiers' day. On strike to the first ball of the next over, he shuffled across to off stump even before Shadab Jakati released his left-arm dart. Having covered the line, he quickly sunk to one knee and swung the ball away over the square leg boundary. When Abdulla swatted a mis-hit six of his own later in the over, Royal Challengers had the final in their sights, needing only 35 off 25. They got home with 10 balls left to play, with de Villiers having just enough time to unfurl a couple more spectacular shots, the pick of them a reverse-sweep off a Praveen Kumar delivery pitching outside leg stump. The win took Royal Challengers into the final, while Gujarat Lions will have another crack at it when they take on the winner of Wednesday's Eliminator between Sunrisers Hyderabad and Kolkata Knight Riders.

Abdulla played a key role with the ball too, dismissing Brendon McCullum and Aaron Finch in the second over of Lions' innings after Kohli had sent them in. Kohli may have used his left-arm spinner that early simply because two right-handers were opening for Lions, and two left-handers were waiting in the middle order, but he may also have observed that the pitch was unusually dry.

Whatever the case, he had extra cover on the rope and mid-off in the circle for McCullum, and the charging New Zealander failed to reach the pitch of the ball, and sharp turn forced him to slice wider than intended, into the hands of the fielder at long-off. Finch closed his bat-face too early three balls later, and the ball popped up to slip. When Shane Watson bounced Raina out in the fourth over, Lions were 9 for 3, sinking even before the contest had really begun.

Dwayne Smith had swapped batting slots with Finch in Lions' last game, against Mumbai Indians, and had looked in fluent touch while making a calm, unbeaten 37 to steer them home in a chase of 173. He struck the ball just as well here, in a more difficult situation, picking up a pair of boundaries off Abdulla early in his innings, sitting back and pouncing when he dropped marginally short, and following up with a hooked six off Chris Jordan.

But the effect of a poor Powerplay - Gujarat only made 23 in that period - rippled through the rest of their innings. Lions' run rate remained under six an over even after Smith and Dinesh Karthik plundered 16 off the 10th, bowled by Yuzvendra Chahal. It was still under seven when they tonked Abdulla for 17 in the 13th over. Karthik fell in the 14th, middling an attempted fine-leg scoop onto his leg stump, Ravindra Jadeja followed in the 16th, and Smith - having hit two more leg-side sixes in that time - holed out in the 18th.

The runs still kept coming, Watson conceding 21 and picking up two wickets in an incident-packed 19th, and Lions scored 100 in their last 10 overs.

A total of 158 still looked inadequate given Royal Challengers' batting strength, but Dhawal Kulkarni had run a battering ram through their top order within four overs of the chase. First, Kohli played on, trying to cut without moving his feet. Then Gayle, pushed back with a series of short balls, swung across the line of a slower ball and missed. Then came an all-format jaffa that swerved away from just short of a good length and induced KL Rahul to edge to slip.

Jadeja then got in the act, getting the ball to stop on Watson, who swatted across the line too soon. And when Sachin Baby slapped Kulkarni straight to short cover, Royal Challengers were gasping for air, the Powerplay not yet done. But they still had de Villiers.